UNISON There for You Newsletter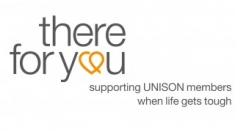 19/05/2016
There for you is UNISON's registered charity offering FREE and confidential services, benefits and support - see attached newsletter.
Your Branch Welfare Officer can be contacted via the Branch Office.
Contacts / Links
Send email
01244 346894
Join
UNISON
Join UNISON in just 3 minutes - all you
need is your bank details and you're set.
Join now
Need help?
Find out who to contact for help, or where
to find the information you need.

01244 346894